(CNN) — A change in wind direction has allowed Bali's international airport to reopen after it closed temporarily Friday because of volcanic ash and vapor from the Mount Agung volcano.
Several airlines delayed or canceled flights to and from Denpasar's Ngurah Rai International Airport on the popular Indonesian tourist island after an increase in volcanic activity.
Volcanic ash can hamper visibility, damage flight controls and ultimately cause jet engines to fail.
Over 300 flights had been canceled, according to airport authorities, affecting the travel plans of thousands of people. Flights are expected to resume this evening.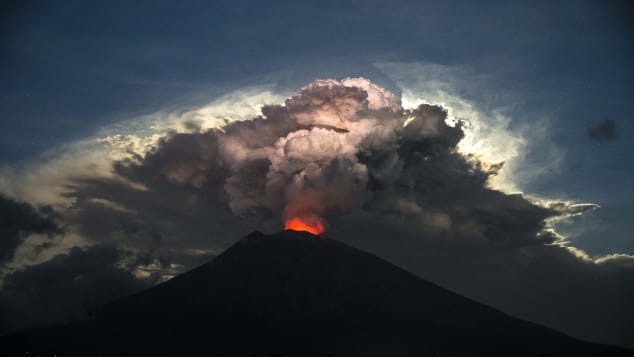 In an earlier statement, Australian airline Qantas acknowledged the inconvenience to passengers but said safety was its top priority. Passengers are advised to check rescheduled flight times.
The Volcano Observatory Notice for Aviation has issued an orange level warning, signaling heightened unrest with the increased likelihood of eruption.
Officials predict the ash cloud will move west and southwest of the Island, adding that there may be an increase in earthquake tremors.
World's most active volcanic region
Indonesia is the world's most active volcanic region and lies on the Pacific "Ring of Fire," where tectonic plates collide, causing frequent volcanic and seismic activities.
The last time the Denpasar Airport closed was November 2017, when the aftermath of a volcanic eruption forced more than 29,000 people to evacuate their homes.
Flights were canceled for 24 hours and stranded 59,000 domestic and international passengers. Amidst the chaos,
Bali's tourism plunged
.
Volcanic activity had only subsided by February 2018, and the Bali Tourism office announced that the volcano alert had been downgraded from level four to level three.
However, there still remains a 4-kilometer no-go zone around Mount Agung's peak.