Global food and commodity prices rose in July, according to the Food and Agriculture Organization of the United Nations.
Everything from eggs to onions are among the kitchen staples that have become symbolic of rising costs, and experts say the picture is unlikely to improve drastically anytime soon.
Matt Grudnoff, a senior economist at The Australia Institute, said that higher inflation was expected to persist as a result of climate change, as weather catastrophes are expected to continue.
"Droughts, fires, sudden floods, cyclones, typhoons, all of these are likely to increase," he said, noting "I imagine we will see higher inflation in the future because of climate change."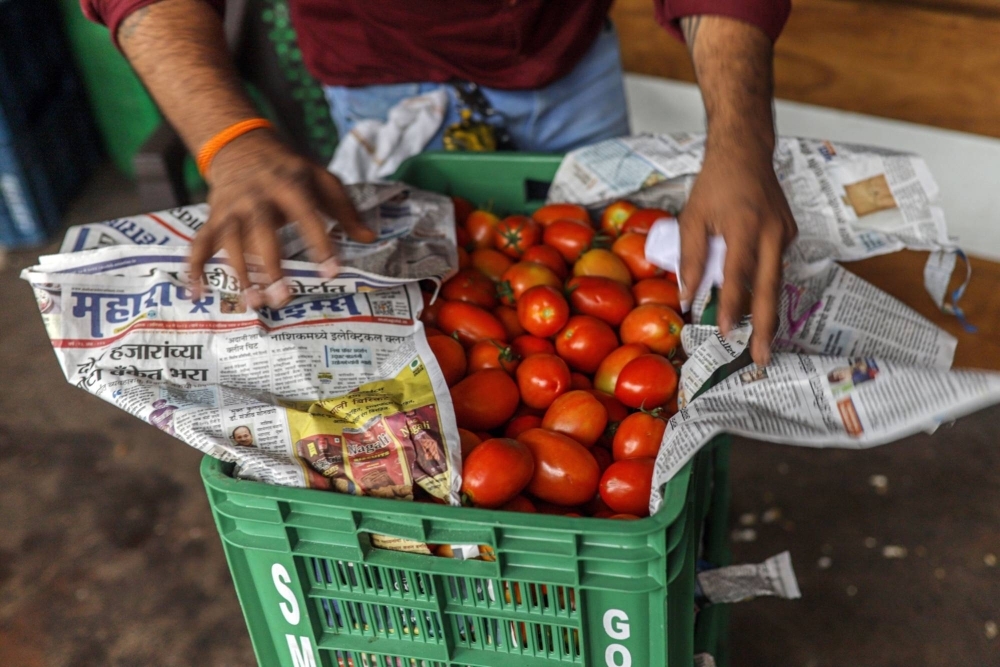 A vendor arranges tomatoes at a wholesale vegetable market in Ahmedabad, India, on July 19. | BLOOMBERG
Robert Carnell, regional head of research for the Asia-Pacific region at financial services corporation ING, said that it's becoming harder to plan crops around weather conditions as they grow more extreme and unpredictable.
"Anything which alters the normal weather pattern is likely to result in poorer yields, and higher prices. When we see occasional shocks to price, then the price usually does fall back again. But these shocks are becoming more and more frequent," Carnell said. "I suspect that the declines in price we have been used to seeing in the past after such events will become more partial, leading to a trending up in prices relative to incomes over time."
Here are some of the products that shoppers are spending more on across the Asia-Pacific region:
Onions
Over the past few weeks, onions have drawn focus in India as the food becomes the latest symptom of changing climatic conditions. Onions, along with tomatoes and potatoes, are the most produced and consumed vegetables in India, and they're so ingrained in local cooking that the combination has its own acronym — TOP.
India's Consumer Price Index (CPI) for July showed vegetable prices had increased 37% year-on-year following erratic growing conditions and a delayed monsoon season. As prices have rocketed upwards, India has placed a 40% export tax on onions, prompting protests from local farmers worried about their ability to generate income.
Meanwhile, India's Ministry of Consumer Affairs has launched a "Grand Challenge" calling for submissions to improve onion storage conditions. According to the ministry, 30% to 40% of the crop is currently lost during storage.
Other fruits and vegetables are also seeing cost hikes — in July, tomatoes saw a 200% month-on-month price increase, the highest rate since 2015.
The impact of soaring fresh food and vegetable prices saw knock-on effects for India's retail sector, with shoppers reportedly tightening their spending.
Takashi Yamano, principal economist at the Asian Development Bank, said this is not the first time India has imposed export restrictions on onions or other products.
"India's import restrictions on essential food items potentially create instability in the food markets of Bangladesh and other neighboring countries, such as Bhutan and Nepal, with small markets. Because of the uncertainty in the food markets, the food prices are likely to increase in these countries and will impact their consumers," he said.
An employee holds a head of lettuce at a Woolworths Group grocery store in Sydney on Aug. 21. | BLOOMBERG
Since the announcement of the export tax, India's neighbors have been negotiating on import quotas of onions and other food products that are on the list of India's export restrictions, Yamano said, noting "after reaching agreements on the quotas, the markets may stabilize."
Onions along with potatoes and tomatoes are part of India's CPI basket — the widely used household goods used to measure inflation. CRISIL, an S&P company that publishes a monthly indicator of the cost of a tray of food in India, found that the average meal had increased for the third month in a row in July, mainly due to tomato prices.
Eggs
Beginning last year, the average retail price of eggs in Japan has increased in part due to higher cost of grain used to feed birds, with this being driven by Russia's invasion of Ukraine, historically a major grain producer. This has been further compounded by concerns over bird flu, which saw egg-laying hens culled, resulting in a drop in the number of eggs. As costs rise for farmers, "egg-flation" has also hit companies that rely on eggs to produce products, along with restaurants and convenience stores.
In March, wholesale prices per kilogram of eggs reached ¥335, the highest since 1993, when data first became available, according to egg merchant JA.Z-Tamago.
Meanwhile, Kewpie, which relies on eggs for its range of mayonnaise products and claims 10% of annual egg production in Japan, has raised its prices in what has become a trend for companies in famously price-sensitive Japan. The company also began producing a soy milk-based egg alternative called Hobotama.
Other food manufacturers like Kagome have also entered the plant-based egg market, producing products that offer an egg-like experience. Egg supply and costs have triggered much discussion in local Japanese media about substitutes, with financial researcher Teikoku Databank projecting the space has potential and may continue to grow in the future.
Rice
In July, India's government banned the export of non-basmati white rice in a bid to ensure sufficient domestic supplies, but the broader impacts of the ban have sparked concerns about food security and knock-on effects for other countries, as rice is one of the most widely consumed grains globally.
Rice prices have risen in Thailand and Vietnam as well, while Philippines President Ferdinand Marcos Jr. on Friday announced a price cap on rice in a bid to curb rising costs.
Rice prices increased 2.8% in July from the month before — the highest level since September 2011 — "amplifying upward pressure already exerted on prices by seasonally tighter supplies," according to the United Nations's Food Price Index (FFPI).
The World Bank's 2023 report on food security released earlier this year included a recommendation that the East Asia and Pacific region needed to shift their food security philosophy from one that is rice-centric to one that is nutrition-centric, but not all consider this practical or likely.
"Throughout Asia, rice is synonymous with food," Carnell said.
Rice for sale at a market in Mandaluyong, the Philippines, in September 2022. | BLOOMBERG
While rice remains an essential part of the grocery list in Asia, it is at the mercy of climate impacts.
"Rice presents particular problems, not least the amount of water required for growth, so when rainfalls become more erratic, as I think they inevitably will, growing rice as the main crop becomes more hazardous," Carnell said.
Leafy greens
In Australia, after extreme floods devastated multiple states in 2022, lettuce became a poster child for rising food prices — driving fast food chains to switch to coleslaw or mix lettuce with cabbage.
"Why is lettuce so expensive" became a top Google search in Australia in 2022.
As prices rocketed up and floods wiped out perishable crops, Carnell said the drastic increases impacted consumer appetites — "I imagine only extreme salad freaks were paying for lettuce at those prices," he said.
While prices have stabilized, underlying costs for fertilizer, fuel and labor mean prices remain vulnerable to future changes.
Adapting to volatility
While inflation numbers vary across the region — consumer price index numbers have cooled in South Korea and Singapore in recent months — the underlying factors behind rising food costs are unlikely to disappear anytime soon.
Increasingly, countries are striving to bolster their food security. In March, Chinese President Xi Jinping called agriculture the foundation of national security, then in August government agencies met to discuss the topic of food security, state media reported.
Vietnamese Prime Minister Pham Minh Chinh recently announced a plan to boost rice production over food security concerns, while Japan has also emphasized food security as a means of mitigating geopolitical risks.
In order to address the issue, addressing climate change is critical and an issue that "really requires government intervention — and all governments to intervene," Grudnoff said.
In the meantime, as more price shocks are to be expected in the future, greater adaptability will be needed from consumers.
"It's really a matter of being more flexible in how you consume food and not consuming as much when (prices are) high," Grudnoff said, nonetheless noting that when prices increase — for example for things like lettuce — lower income shoppers unable to absorb price increases have less choice.
"Unfortunately it's rich people who can afford to buy it. They're the ones that don't miss out. Rather than based on need, it's based on income, or wealth, that the price is just a rationing tool that reduces the amount of demand," he noted.
Source : Japan Times