Nepal has progressive laws and quotas for women's representation in politics, but patriarchy and gender discrimination run deep and influence the decisions of parties.
Kathmandu (21/05 – 45.45) Nepal has progressive laws and quotas for women's representation in politics, but patriarchy and gender discrimination run deep and influence the decisions of parties.
On April 28, misogyny in Nepal's politics and society was on full display during a panel discussion at a Kathmandu college.
A young woman questioned the integrity of Keshav Sthapit, a mayoral candidate for Kathmandu Metropolitan City in the upcoming local elections. Sthapit, who has been accused of sexual harassment by two women in the past, sought to insult her.
"You are a nice lady but thutuno thik chhaina," Sthapit said in a condescending and aggressive tone, accusing her of using inappropriate language. Wagging his index finger, the Communist Party of Nepal (Unified Marxist–Leninist) politician threatened to malign her by publishing allegations that she is a prostitute.
As disturbing as Sthapit's language and threats was the reaction of his largely male supporters in the audience. They hooted and clapped in response to his insulting of a woman.
This isn't the first time that Sthapit has diminished women in public. When accused of sexual harassment, he described the allegations as a "rape of men's rights" and said his accusers were "retarded,"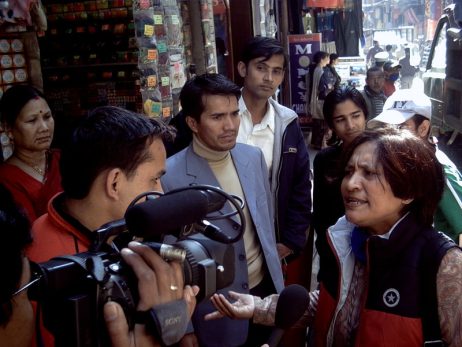 Oddly, his running mate in the upcoming elections is a woman who has spoken of her "zero-tolerance policy" toward violence against women.
Sthapit's remarks and the reaction of the audience provide a glimpse of Nepal's patriarchal and misogynist society and the enormous challenges the country faces in terms of gender equality.
Soon after the incident, the Women's Rehabilitation Center (WOREC) and 45 other women's rights organizations released a statement calling his remarks "objectionable and punishable." The Election Commission summoned Sthapit for clarification, but no action has been taken against him so far.
His party chief and former Prime Minister K.P. Sharma Oli defended Sthapit and described the allegations against him as an attempt at "character assassination" for electoral gain.
Despite the controversy, Sthapit has a fair chance of winning the elections on May 13.
In the World Economic Forum's Global Gender Gap Report 2021, Nepal was ranked 106 out of 156 countries. The Nepal Human Development Report 2020 warned that Nepal is losing 25 percent of human development because of gender inequality. It stated that "structural barriers and social exclusion underpin gender discrimination and inequality."
On a positive note, the report affirmed that the gender disparity in Nepal's Human Development Index values is "not very high," and has been declining since 2016. Nepal has improved remarkably with regard to women's political participation. The Global Gender Gap Report ranked Nepal 61st for political participation.
In the last federal election in 2017, 91 members of parliament (33.1 percent of the total 275) were women. In the 2017 local elections, more than 46 percent of elected chiefs and deputies in municipalities in Nepal were female. Of all the elected 14,041 representatives, almost 41 percent were women. This was a significant improvement in the representation and empowerment of women, at least quantitatively.
However, a disaggregation of the data paints a different picture. Among the elected chiefs and deputies in municipalities, 98 percent of the chiefs were males, whereas 91 percent of the deputies were females. Women were nominated for the chiefs in only 190 municipalities to fulfill the basic legal requirement. Most of those women who were nominated by the major parties were fielded in constituencies where the party expected to lose. Among the non-quota positions as ward members, only 2 percent were won by women.
The quantitative representation of women can be wholly attributed to the legal requirements. Article 38 of the Constitution of Nepal 2015 affirms the fundamental rights of women, which include, among others, the right to special opportunities in education, health, employment and social security, on the basis of positive discrimination. The Constitution of Nepal 2015, Article 84(8) dictates that "at least one third of the total number of members elected [in aggregate from direct and proportional elections] from each political party represented in the Federal parliament must be women."
Similarly, the Local Level Elections Act 2017 states that parties have to nominate at least one female candidate if they decide to nominate candidates for both chief and deputy chief positions in any municipality. Similarly, there are additional requirements for female and disadvantaged communities' representation in every local committee.
Despite women's representation and progressive laws, patriarchy and gender discrimination run deep and influence party decisions in several ways. First, women are often nominated for deputy or non-executive positions. Of the 46,693 nominations for executive positions in the upcoming local elections, women comprise only 8.4 percent of the candidates. The rest of the women's nominations (29.44 percent) are for reserved seats for females (included from disadvantaged communities) as mandated by law.
Second, women are represented but not necessarily empowered. Female politicians admit that politics is often seen as an "old boys club," and they cannot speak out openly. Many of their colleagues feel that they do not deserve the seat and are there to fill the quota, and treat them accordingly. The sexist mindset of males in leadership has not changed. Neither has the attitude of voters. A survey by The Asia Foundation found that only 8 percent of elected female representatives found encouragement from their spouses to stand for elections. It also found that the perception toward women representatives remained clouded by constructions of gendered roles and responsibilities. Many women, especially those who came from disadvantaged groups, felt "insignificant."
Third, the numerical representation of women has given a false sense of achievement on gender parity. The "old boys" point to the representation and shrug off any need for effective empowerment or for social change. Even worse, this has invited backlash from conservative and misogynistic male candidates and voters who feel that their chances are hurt because of the legal requirements proportional representation. It has led to emergence of a culture where "femininity is denied political space, scope, and subsequently, legitimate candidacy."
Fourth, despite Nepal's progressive constitution, legal and structural hurdles exist. According to Binda Pandey, a standing committee member of the CPN-UML, 43 acts passed by the parliament are discriminatory toward women despite constitutional guarantees of equality.
Fifth, the representation of women at the local level is further thwarted by the electoral alliance of the ruling five-party coalition. Because the alliance nominated the chief and deputy chief candidates from different parties, it was not bound by the law that at least one candidate has to be female. Though it may be legal, it definitely stretches the spirit of the law.
Will the enhanced quantitative representation of women in political positions eventually translate to qualitative empowerment? There is no evidence to suggest that elected women representatives have performed any worse than their male counterparts. To the contrary, the Communist Party of Nepal – Maoist Centre supremo Pushpa Kamal Dahal emphasized that women's leadership has led to more progress (though he was defending the case for his own daughter, and his party is as guilty as others).
The onus is now on the voters. Nepal's case shows there is enough room for optimism, but the struggle for gender equality and justice is far from over.