HANGZHOU, CHINA — The Asian Games closed their 16-day run on Sunday at the 80,000-seat Olympic Sports Center Stadium with host nation China again in command as Premier Li Qiang ended a show aimed partly at winning the hearts of Asian neighbors.
They're officially called the Asian Games, but the more accurate description would be the "China Games," illustrative of the country's four-decade domination of the continental, multi-sports championships.
The 19th Asian Games — they began in 1951 in New Delhi, India — were a celebration for Hangzhou, a city of 10 million, the headquarters of Alibaba and a sprawling metropolis overshadowed by an even larger metropolis — neighboring Shanghai.
"We have achieved the goal of a streamlined, safe and spectacular games," spokesperson Xu Deqing said on Sunday. State media reported the spending to prepare for the games at approximately $30 billion.
Vinod Kumar Tiwari, the acting general secretary of the Olympic Council of Asia, called them "by far the largest ever Asian Games."
The secretary general of the organizing committee, Chen Weiqiang, characterized this version of the Asian Games as a "branding" campaign for Hangzhou.
"The city of Hangzhou has been fundamentally changed," he said. "It is fair to say the Asian Games are a key driver for the takeoff of the city."
These were bigger than any previous Asian Games with almost 12,500 competitors. Next year's Paris Olympic will have about 10,500, similar to the Asian Games in 2018 in Jakarta, Indonesia, and the forecast for 2026 when the games move to Nagoya, Japan.
One of the few records China didn't break this time was its overall medal haul of 416 when the 2010 Asian Games took place in the southern Chinese city of Guangzhou.
This time, China won 201 gold medals and 383 overall. The next two teams — Asian powers Japan and South Korea — had fewer overall medals combined than China. Of course, their combined population is about one-eighth of China's.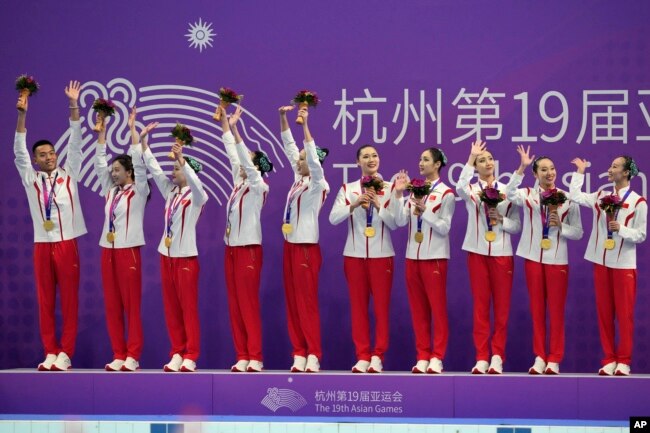 Japan won 52 gold, and South Korea 42. Combined, this was less than half of China's gold total.
Twelve of the 45 nations or territories that entered had five medals or fewer and four — Bhutan, Maldives, Yemen, and Macao — failed to win a single medal.
"How can we rate the performance of the Hangzhou Asian Games?" Wei Jizhong, the 87-year-old vice president of the Olympic Council of Asia, asked rhetorically in a news conference.
"We don't rank Asian Games against others. But in terms of hosting games in China, let's compare them with ourselves. I will give a 99 score. I always believe there is room for further improvement."
The games offered all the traditional Olympic sports, and also a glimpse of one sport that's previewing next year in Paris — breaking, or breakdancing. And another, cricket, which will be included in either the 2028 Los Angeles Olympics, or in 2032 in Brisbane.
Esports was a official entry for the first time, and a giant favorite. Esports is not in the Olympics yet, but the IOC is trying to figure out a way to capitalize on its mammoth revenue stream.
The games showcased so-called "mind sports" like chess and conract bridge, and offered some unique entries you won't see anywhere else in a multi-sports event: dragon boat racing, kabaddi, sepaktakraw (foot volleyball), 3×3 basketball, and roller skating.
Yasuhiro Nakamori, the acting director general for the 2026 Aichi-Nagoya Games, said Japan would build only two new venues, unwilling to splurge as it did for the recent Tokyo Olympics.
Hangzhou is reported to have built 56 sports facilities and 30 training sites as well as major infrastructure investments for the games, which were delayed a year by the COVID-19 pandemic.
Nakamori said the Chinese "hardware was wonderful. We can't pretend those kind of games. Our concept is to use existing venues."'
He said the two new venues that were being built are a stadium and an arena. In addition, Nagoya will use the swimming and diving venue in Tokyo built for the 2020 Olympics, and will hold cycling and equestrian events near Tokyo.
"That means we have to work on the software and people power," he added. "For our side it is a disadvantage because we lose one year, especially for the marketing activity."
Chen, the secretary general of the local organizing committee, was asked if Hangzhou would consider an Olympic bid.
"The venues are suitable to hold large, multi-sport event like the Olympics," Chen said. "After the close of the Asian Games, what we focus on is how the venues can be extensively used by the people. But we haven't thought about whether we would hold the Olympic Games."
Source : Voa