While the democratic world has been gripped by fears that China would follow the footsteps of Russia by invading Taiwan, a former Chinese diplomat has warned that the Russian military action in Ukraine is bound to fail.
New Delhi (20/05 – 33.33) While the democratic world has been gripped by fears that China would follow the footsteps of Russia by invading Taiwan, a former Chinese diplomat has warned that the Russian military action in Ukraine is bound to fail.
A former Chinese ambassador to Ukraine, Gao Yusheng, came out against Russia's invasion of Ukraine. His remark was reportedly removed secretly from the Chinese internet after it was published. He served as an ambassador to Ukraine from 2005 to 2007.
During an internal webinar organized by the government-affiliated China International Finance 30 Forum and the Chinese Academy of Social Sciences (CASS), Gao Yusheng, a 75-year-old career diplomat, presented a harsh indictment of Russian President Vladimir Putin's war.
The Chinese diplomat said that "it was only a matter of time" before Vladimir Putin was defeated in Ukraine. He also argued that Russia had lost "its strategic leadership and initiative" and could no longer decide "when and how" the war would end, The Express reported.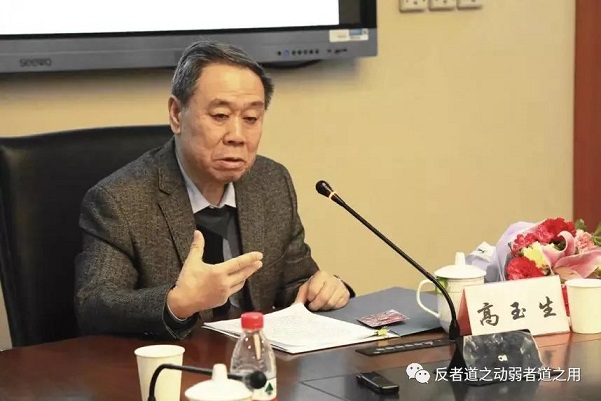 It is unclear whether Gao intended for his comments to be broadcast publicly. An edited transcript of his comments was released by Phoenix News Media, a largely state-owned television network, "with revisions from the ambassador himself."
These public remarks could come as a blow to Russian President Vladimir Putin, who has been carefully seeking Beijing's support for his military adventures in Ukraine.
On its part, China and its supreme leader have refused to name and condemn the Russian invasion of Ukraine directly. On the contrary, China asserted that the friendship between the two countries was rock solid.
Not just that, despite the war raging in Ukraine, China has time and again endorsed Russian security interests and chastised NATO's expansion policy.
A recent report by state-owned Global Times said Chinese experts thought that "the northward expansion of NATO will further threaten the sustainable security of Europe and the world."
However, these remarks become even more significant when viewed against the backdrop of a potential Chinese invasion of Taiwan, which the western countries believe could come within the next few years.
Recently, a top US intelligence official said that China was building a military that could take over Taiwan by 2030. In recent months, China has also intensified its rhetoric about reunification by force, if necessary.
Unusual Remarks from China
Gao painted a bleak picture of Russia's deep economic and political disaster in the wake of the conflict, claiming the country has been in a "continuous, historical process of decline" since the Soviet Union's fall in the 1990s.
"The so-called revitalization of Russia under Putin's reign is based on a false premise. Russia's decline is evident in all areas… and has had a significant negative impact on the Russian military and its combat capabilities," he said. According to Gao, the odds are stacked so heavily against Putin that "it's only a matter of time before Russia is fully defeated," quoted The Diplomat.
There are no signs that Beijing's position on the conflict is shifting. Last week, Chinese vice foreign minister Le Yucheng told an online security forum that to scapegoat China for the war was "preposterous," accusing the US of sacrificing Ukraine to further its own geopolitical goals.
Despite Moscow's isolation, China has praised the "resilience" of Russian-Chinese relations, reiterating its commitment to enhancing bilateral "strategic coordination."
Further, the Chinese media has often been accused of broadcasting Russian propaganda and supporting Moscow in its war. China has abstained from all anti-Russia resolutions at the United Nations, and its allegiance toward Moscow has led to the US warning Beijing against helping Russia circumvent the sanctions.
The relationship between China and Russia was recently exposed when a crash of a Chinese trainer aircraft led to the revelation that Russian fighter pilots were still in China and training its fighter pilots, as previously reported by the EurAsian Times.
Unlike other Chinese officials who have accused the US of directing the war from behind the scenes, Gao took a more balanced approach to the US role in the conflict. He accepted Washington's intention of "weakening and isolating" Russia but foresaw a postwar world order revival in the West's favor.
"The U.S. will vigorously push for substantive reforms of the United Nations and other international organizations, or even start new ones if such reforms find roadblocks," according to Gao's published statement. In either case, said Gao, ideology lines will be drawn.
The timings of these comments are significant as Chinese President Xi Jinping is soon expected to take over his third consecutive term. Xi is known to have tightened the free speech curbs available to the Chinese citizens and power remains concentrated in his hands, restricting any former or serving official to toe a line not aligned with the ideals of the Community Party.
Further, while Gao's controversial statements are now deleted from the edited transcript, they certainly have come as a major embarrassment for both China and Russia.