The reports claim that Israeli jets missed their target because of robust electronic suppression, which disrupted the weapon systems of the Lockheed Martin F-35 jets. According to reports, neither aircraft could strike the target during the military drills, which Israeli Prime Minister Naftali Bennett attended.
At the same time, the report notes that this demonstrates the severe vulnerability of the fifth-generation F-35 fighters to electronic countermeasures.
Parth Satam, a defense analyst at the EurAsian Times, says: the video shows an air-to-ground munition, reportedly fired from an F-35, missing its target, which the website claims are owing to Electronic Warfare (EW) interference from Russian systems.
While it certainly is true that Russian EW systems like the Krasukha-4 have been highly effective in jamming even US drones, Russia's interference in Israeli military exercises within its territory seems highly unlikely.
The only situation where Russia would interfere in Israeli air operations is in Syria, where they have a deconfliction mechanism to allow IAF to strike Iranian targets. They also helped shoot down Israeli AGMs with the Buk-M2/3 supplied to the Syrian Arab Army (SAA) a few months ago.
But Russia would softly retaliate by electronically interfering in Israeli air operations only around its interests in Ukraine or Syria. The AviaPro report might be valid to the extent that GPS signal disruption has been observed in the Eastern Mediterranean since Russia specifically installed anti-drone and EW systems at its Khmeimem air base in Syria to protect from air and space surveillance.
Russian electronic jammers can disrupt signals from GLONASS, American GPS, European Galileo, and Chinese BieDou satellite navigation systems. Thus aircraft, drones, or missiles will see their GPS receivers go awry.
Even in March 2021, interference was reported on the European Space Agency's Sentinel-1 satellite, which some OSINT experts and telecommunications specialists concluded was radar interference. It was over the Black Sea region.
But assuming Russia did directly interfere in the Israeli domestic military drills, it could be because it calculated that the current tensions with Iran where Israel is trying to ramp up a regional coalition against it, conducting cyber attacks within the country and assassinating its military officers and nuclear scientists have gone out of hand.
Israel Upgrades Its F-35 Stealth Fighters
The Israeli Air Force (IAF) has reportedly extended the range of its F-35 stealth fighter jets to fly to Iran without needing mid-air refueling. The new capability can allow the IAF to conduct aerial strikes against Iran and its nuclear facilities.
It is a significant development considering a growing concern about the survivability of traditional refueling jets in or near contested airspace.
It means that the Israeli F-35s will no longer have to rely on the IAF's fleet of just seven Boeing 707 tankers for refueling, making them more flexible and deployable. Additionally, Israel is looking to accelerate the replacement of existing tankers with modern KC-46s.
How Was Range Extension Achieved?
It remains unclear how the stealth jets have acquired the new extended-range capability. However, reports suggest it involves additional external fuel carried in drop tanks.
As EurAsian Times has discussed earlier in the case of the F-22 Raptor, the addition of external fuel tanks would significantly increase radar signature. Therefore, they could be jettisoned together with their pylons before the F-35s enter Iranian airspace in case they are deployed for such a mission.
Another option could be a conformal, flush-mounted fuel tank that could have a reduced impact on stealth and overall performance. However, it could also involve a significant change in the shape and possible modifications to the airframe.
Conformal fuel tanks (CFTs) are additional fuel tanks fitted closely to the profile of an aircraft that extend the endurance. They appear on the upper surface of an aircraft like Big Swollen "Shoulders." See the video below to know more about CFTs.
Back in 2019, Lockheed Martin was looking at adding two 600-gallon drop tanks under the F-35's wings as part of a more extensive range-extension study, which would have had a considerable impact on the aircraft's stealth characteristics but would provide additional fuel capacity of around 40 percent. Before that, some studies looked at adding smaller 480- and 460-gallon tanks.
"We have had early discussions with various F-35 customers regarding extended-range opportunities," a Lockheed Martin spokesperson told Aviation Week. "While exact ranges depend on mission profiles, our studies show a significant increase in range and loiter time — or mission persistence."
Lockheed Martin's F-35 range extension effort is primarily driven by Israeli interests in this capability.
The basic F-35A, and likely the F-35I, currently has a publicly stated unrefuelled combat radius of just over 650 nautical miles (1046.07km). That means the IAF's jets are unlikely to make it beyond Iran's border, assuming they can enter using the most direct routes.
Even Israeli firms are known to be involved in developing potential drop tank options for the F-35 and conformal fuel tanks.
Israeli Aerospace Industries (IAI) and Cyclone, a subsidiary of Israeli firm Elbit Systems, have worked on both a conformal tank design for the F-35I and the 600-gallon drop tank, according to Aviation Week.
Therefore, it is also possible that at least some of this work could have been carried out without relying upon Lockheed Martin.
New Smart Bomb Added To F-35 Adir's Arsenal
In addition to range extension, the IAF has reportedly integrated a new, locally-developed bomb into the arsenal of weapons used by the Adir, capable of being carried inside the plane's internal weapons compartment without jeopardizing its stealth radar signature.
According to The Jerusalem Post, Rafael Advanced Weapons Systems made the bomb in question. It weighs about 1 ton, which would put it broadly in the same category as the US-made GBU-24 Paveway laser-guided bomb or the GBU-31 Joint Direct Attack Munition. It is considered autonomous and protected against jamming and electronic warfare systems.
It is, however, unclear what kind of guidance is used and whether it offers a standoff range. The report also mentions recent tests of the weapon by the IAF, the results of which were shared with Israeli Minister of Defense Benny Gantz.
Weaponry explicitly planned for the Israeli F-35 fleet is expected to include the Rafael SPICE precision-guided bomb but may eventually have air-to-air missiles and other weapons. It is possible that the new weapon referred to is a version of the 2,000-pound SPICE 2000 tailored for internal carriage.
The recent upgrades to the IAF's long-range strike capabilities and the addition of new weapons come as Israeli leadership appears to be adopting a hard-line approach against Iran's nuclear program.
Change In Israel's Strategy Against Iran
On June 7, Israeli Prime Minister Naftali Bennett reiterated his frequent metaphor for Iran as an 'octopus' and said Israel's strategy has changed in the last year, and it is "acting against the head… And not just its arms, as we had in recent years."
In this metaphor, the 'arms' are the various proxies of Iran, such as Hamas, Hezbollah, the IRGC Quds Force, and Iran-allied militias in Syria, whereas the 'head' supposedly implies the leadership in Tehran.
Iran's move toward acquiring enriched uranium required for building functional nuclear weapons is driving Israel's concerns.
Raising the possibility of Iran succeeding in enriching uranium beyond 60% purity, Bennett added, "Israel cannot and will not accept this situation." A purity of around 90% is a must for weapons-grade uranium.
Last week Israel reportedly simulated a massive strike against Iran involving hundreds of aircraft as part of the Israeli Defense Force's (IDF's) 'Chariots of Fire' series of exercises.
Israeli Fighters Practice Long-Range Strike
According to the Jerusalem Post, the recent military exercises involved the F-35 and fourth-generation jets like Israel's older model F15s and F-16s.
Israel has repeatedly demonstrated a willingness to expose its F-35 fleet to combat operations. Israel announced in May 2018 that it had become the first operator to use the jet for offensive operations. Since then, it has also recorded success in aerial combat against Iranian drones.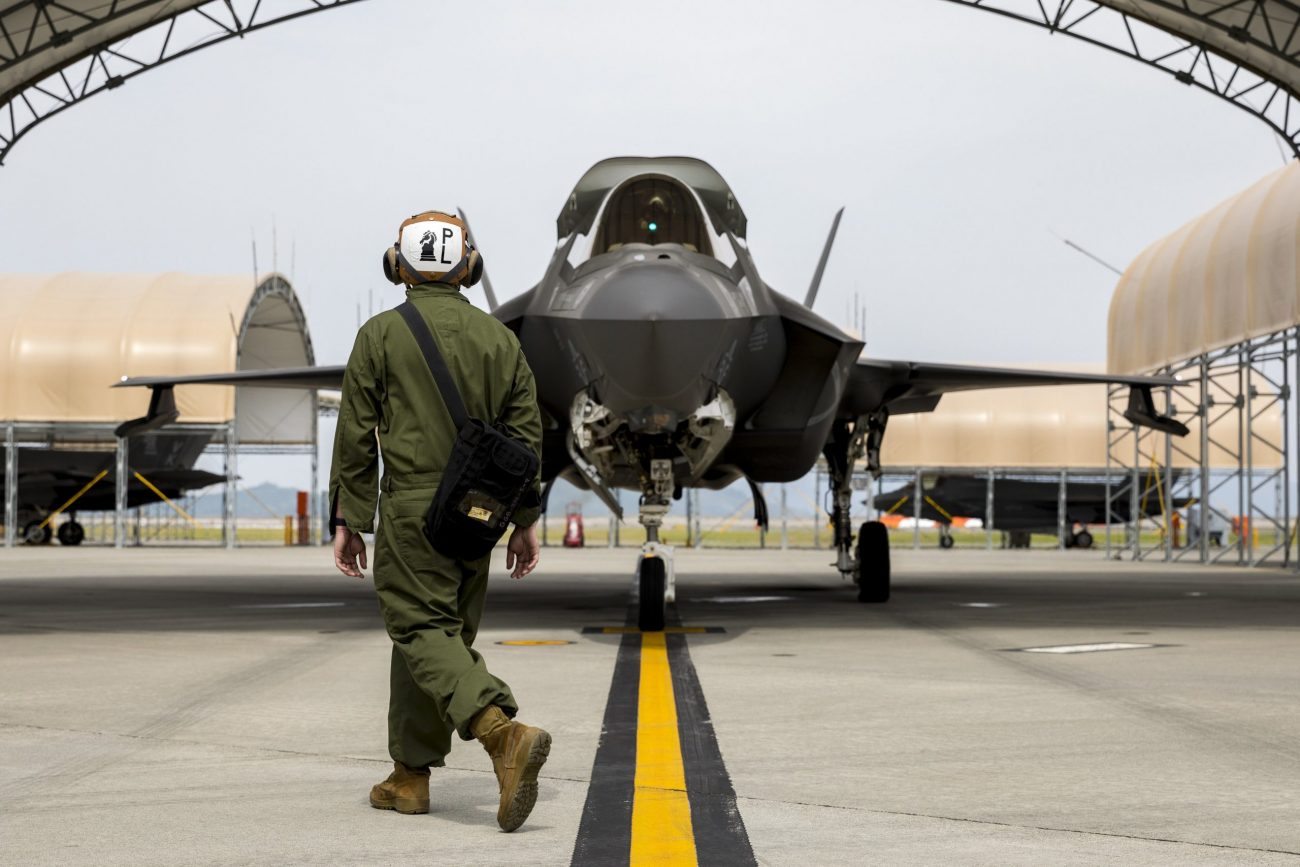 The first of these exercises reportedly focused on defeating Iranian radar and other elements of its integrated air defense network. Here, in particular, the F-35I would play an instrumental role with the help of its extensive sensor suite, networking, and stealth capabilities.
The second exercise reportedly saw the IAF undertake long-range missions that would be needed to strike critical infrastructure, including nuclear facilities, deep inside Iran.
"Iran's surface-to-air missile systems and radars are crowded, and they are not the only challenge," an unnamed defense official told the Jerusalem Post. "We need to be able to attack significant targets, and the attack needs to be able to cause extensive damage. There are multiple targets in Iran at different ranges."
Iran Appears To Be Moving Toward Weaponizing Its Nuclear Program
Meanwhile, Iran has continually reduced its compliance with the 2015 nuclear deal.
On June 9, the United Nations atomic watchdog, the International Atomic Energy Agency (IAEA), announced that Iran had begun removing 27 cameras monitoring its nuclear activity, a move that could prevent international inspectors from gaining a clear picture of Tehran's uranium enrichment work.
Furthermore, according to a German intelligence report released this week, Iran seems to be stepping up its efforts to acquire technology to help its illicit nuclear program.
"The German domestic intelligence agencies were able to identify a significant increase in the indications of proliferation-related procurement attempts by Iran for its nuclear program," the Federal Office for the Protection of the Constitution stated.
Professor Matthew Kroenig of the Department of Government and the Edmund A. Walsh School of Foreign Service at Georgetown University, an expert on Iran's nuclear weapons program, told Fox News Digital that Iran's efforts in Germany to obtain nuclear-related technology could be after "components for weaponization."
He warned that Iran "has missile and enrichment capability," adding that the next step is weaponizing its arsenal.
Source : EurAsia Times