The Indian Navy has accepted delivery of its first indigenously designed and built aircraft carrier — a milestone for the country's defense industry as New Delhi seeks to not only modernize the force, but also counter increased Chinese presence and influence in the Indian Ocean.
The future INS Vikrant, also known as the "Indigenous Aircraft Carrier," was handed over to the navy on Thursday by local shipbuilder Cochin Shipyard following extensive trials.
The 262.5-meter-long ship is slated for commissioning later this month as part of events to mark 75 years of Indian independence.
Construction of the carrier took 13 years to complete — at least six years longer than expected — due to repeated delays, including COVID-19-related issues, and was over budget, costing about 200 billion rupees ($2.5 billion).
Its full-load displacement of nearly 45,000 tons means it displaces as much the Indian Navy's other aircraft carrier — INS Vikramaditya, which is about 20 meters longer — but the Vikrant is smaller than the two in-service Chinese navy carriers, and much smaller than China's third carrier, which was launched in June.
This displacement means Vikrant will only have an air wing of about 30 aircraft, including Russian-made fighters and early warning helicopters, as well as U.S.-made multirole choppers and locally developed light helicopters and combat aircraft.
The ship is equipped with a "ski jump" for launching aircraft and a set of "arresting wires" for their recovery on board, just like Vikramaditya, which has been in Indian Navy service since 2013.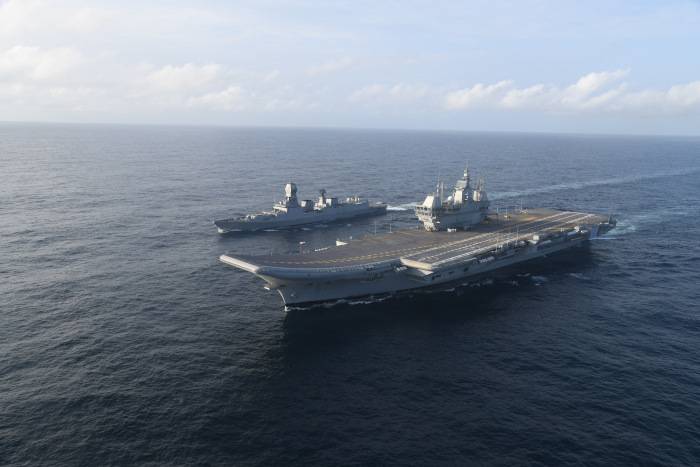 However, Vikrant — only the fourth carrier in the country's history — is expected to be commissioned without its air wing, which is expected to be provided over the coming months.
The ship's completion means that India has now joined a select group of countries that have been able to design and build their own aircraft carriers.
According to the navy, about three-quarters of Vikrant's components and systems were sourced locally, with New Delhi describing this as a "perfect example" of the nation's quest for self-reliance under the government's "Make in India" initiative.
"Vikrant has been built with a high degree of automation for machinery operation, ship navigation and survivability," said the navy, adding the carrier construction also resulted in other benefits, including extensive infrastructure upgrades at the Cochin shipyard and the local development and production of warship steel, allowing the country to become self-sufficient in that material.
Chinese interests
But above all, Vikrant is part of New Delhi's push to both build an elite "blue water" navy — one capable of operating globally across oceans — and bolster its defense capabilities in the Indian Ocean amid concerns about the balance of power in the region, as Chinese naval vessels are making inroads into these strategically important waters.
According to the Pentagon, the Chinese navy — which has a base in Djibouti on the Horn of Africa — has not only increased the number of port visits to regional states but also conducted submarine deployments to the Indian Ocean, demonstrating its increasing familiarity with operating in that region and underscoring Beijing's interest in protecting sea lines of communication beyond the South China Sea.
China's regional interests have expanded rapidly over the past two decades through investments in ports and several other projects to secure maritime routes for energy and other supplies under Beijing's Belt and Road initiative (BRI).
According to a paper by the U.S. Naval College, 95% of Chinese exports to Europe, Africa and the Middle East — and almost 100% of China's imports from Europe and the Middle East — flow through the Indian Ocean. As such, securing access to these resources and markets is a top national interest for Beijing, and an emerging mission for the Chinese navy.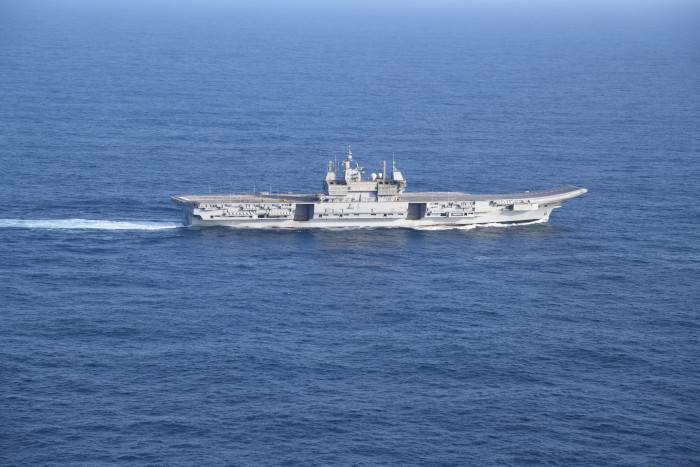 Given the strategic importance of these waters for China, there are concerns in both New Delhi and Washington that Beijing could create a dedicated naval force to protect its vital interests in this region.
New Delhi is aware that China's growing naval presence in the area, along with its close ties with countries such as Pakistan and Sri Lanka, might provide Beijing with meaningful military advantages far from its shores.
The Pentagon warned about this in its 2021 China Military Power Report, saying that some BRI projects could potentially lead to China gaining access to "selected foreign ports to pre-position the necessary logistics support to sustain naval deployments in waters as distant as the Indian Ocean."
As part of its military modernization drive, China has been developing the capabilities required to operate deeper in this region, and in some cases, globally, as recently highlighted by the launch of the country's third aircraft carrier as well as a of number of advanced escort and auxiliary vessels that will help it operate as a carrier strike group.
Regional balance
Against this backdrop, the Vikrant — set to become the Indian Navy's new flagship — could play an important role in helping deter Chinese advances in the region, especially during peacetime through power projection and "defense diplomacy" missions.
However, New Delhi is not only relying on its aircraft carriers to maintain the regional balance of power. The Indian Navy's modernization program has also seen it field a growing number of new license-built attack submarines, as well as advanced homemade guided-missile destroyers, frigates and corvettes.
India has also been acquiring assets specialized in anti-submarine warfare such as U.S.-made MH-60R helicopters and long-range P-8I Neptune maritime aircraft.
Moreover, the country, which has been testing its ability to forward-deploy submarines to the Andaman and Nicobar Islands, is building what it calls "anti-submarine warfare shallow water craft" to hunt submarines in waters close to the shore.
Finally, New Delhi is taking a more collective approach to counter China. A member of the "Quad" grouping of nations — which also comprises the United States, Japan and Australia — India has been developing closer military ties with friendly countries through increased military-industrial cooperation and expanded joint exercises.
Source : Japan Times