The rupiah strengthened sharply against the United States (US) dollar this week, ending a five-week slump in a row. Not only that, the rupiah is also one of the best in Asia.
According to Refinitiv data, the rupiah has shot up 1% so far this week to IDR 14,835/US$. Compared to other Asian currencies, the rupiah lost only to the South Korean won which strengthened 1.4%.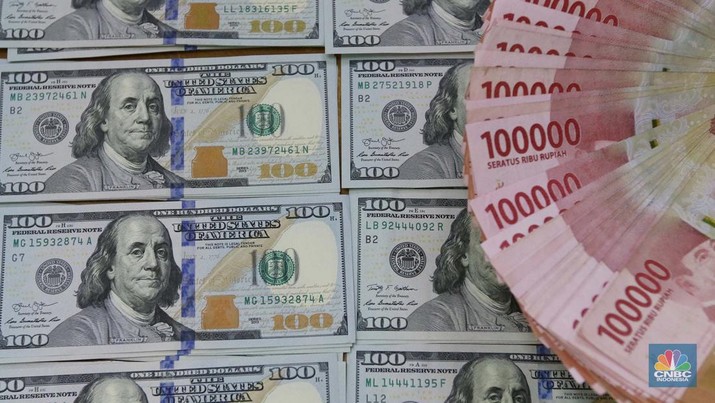 Foto: Ilustrasi dolar Amerika Serikat (AS). (CNBC Indonesia/ Muhammad Sabki)
Jakarta, CNBC Indonesia – Rupiah menguat tajam melawan dolar Amerika Serikat (AS) sepanjang pekan ini, menghentikan kemerosotan lima pekan beruntun. Tidak hanya itu, rupiah juga menjadi salah satu yang terbaik di Asia.
Melansir data Refinitiv, rupiah tercatat melesat 1% sepanjang pekan ini ke Rp 14.835/US$. Dibandingkan mata uang Asia lainnya, rupiah hanya kalah dari won Korea Selatan yang menguat 1,4%.
The US central bank (The Fed), which is predicted not to raise interest rates next week, has made the rupiah soar. Based on the CME Group's FedWatch tool, the market now sees a 70% probability the Fed will keep its benchmark interest rate at 5% – 5.25%.
This probability shot up after the US economy showed signs of slowing down.
Investment bank Goldman Sachs projects that there is a 25% probability that the United States will experience a recession in the next 12 months.
Europe, which has experienced a recession, also affected the movement of the rupiah. Eurostat on Thursday (8/6/2023) revised the euro zone's economic growth to -0.1% quarter-to-quarter (qtq) in the first quarter of 2023. In the previous quarter, gross domestic product (GDP) also grew negatively, so it is called experiencing a technical recession.
Recession does have a bad impact, but in the "war" against high inflation, this is exactly what people look forward to. When a recession occurs, economic activity decreases, mass layoffs (PHK) can occur, so that people's purchasing power decreases. That could make inflation fall more quickly.
This is better than dealing with high inflation for a long time. Moreover, for example, if the economy is still strong, it can trigger a wage-price spiral.
Thus, this recession can actually be welcomed by market players, the rupiah also received positive sentiment.
Domestically, inflation, which continued to decline, also boosted the performance of the rupiah. The Central Statistics Agency (BPS) noted that inflation in May this year was recorded at 0.09% (month to month/mtm) and 4% (year on year/yoy). On a monthly basis, May's inflation was the lowest since the last six months.
On an annual basis, May's inflation was the lowest since May 2022 or the last year. Core inflation eased to 2.66% (yoy) or the lowest since July 2022.
May inflation was much lower than market consensus. The CNBC Indonesia poll of 12 institutions estimates that May 2023 inflation will penetrate 0.29% (mm) and 4.20% (yoy).
Just like BI's projection, inflation reached the target of 3% plus minus 1%, in the first half of this year.
Source : CNBC Indonesia