During a recent photoshoot with Calvin Klein, BTS member Jung Kook was asked where he would like to travel next. Without hesitation, Jung Kook answered Jeju Island despite not being an avid traveller. However, the main vocalist of the K-pop boy band has visited the famed holiday destination numerous times.
Jeju Island is the go-to place for honeymooners, but it's also famous for those looking for a laidback retreat from city life. Packed with gorgeous beaches, delicious fresh seafood, stunning hiking trails, and natural wonders, it's no surprise that Jung Kook loves Jeju Island. There are so many places to visit in South Korea, but Jeju Island boasts plenty of unique features that make it stand out.
If you're looking to retrace Jung Kook's steps, it's time to visit (or revisit) Jeju Island. The island is best explored by dividing your trip between Jeju (North side) and Seogwipo (South side). To make the most of your trip, we list some of the best places to visit on both sides of the island.
Jeju Island: Best places to visit
Sunrise Peak (Seongsan Ilchulbong)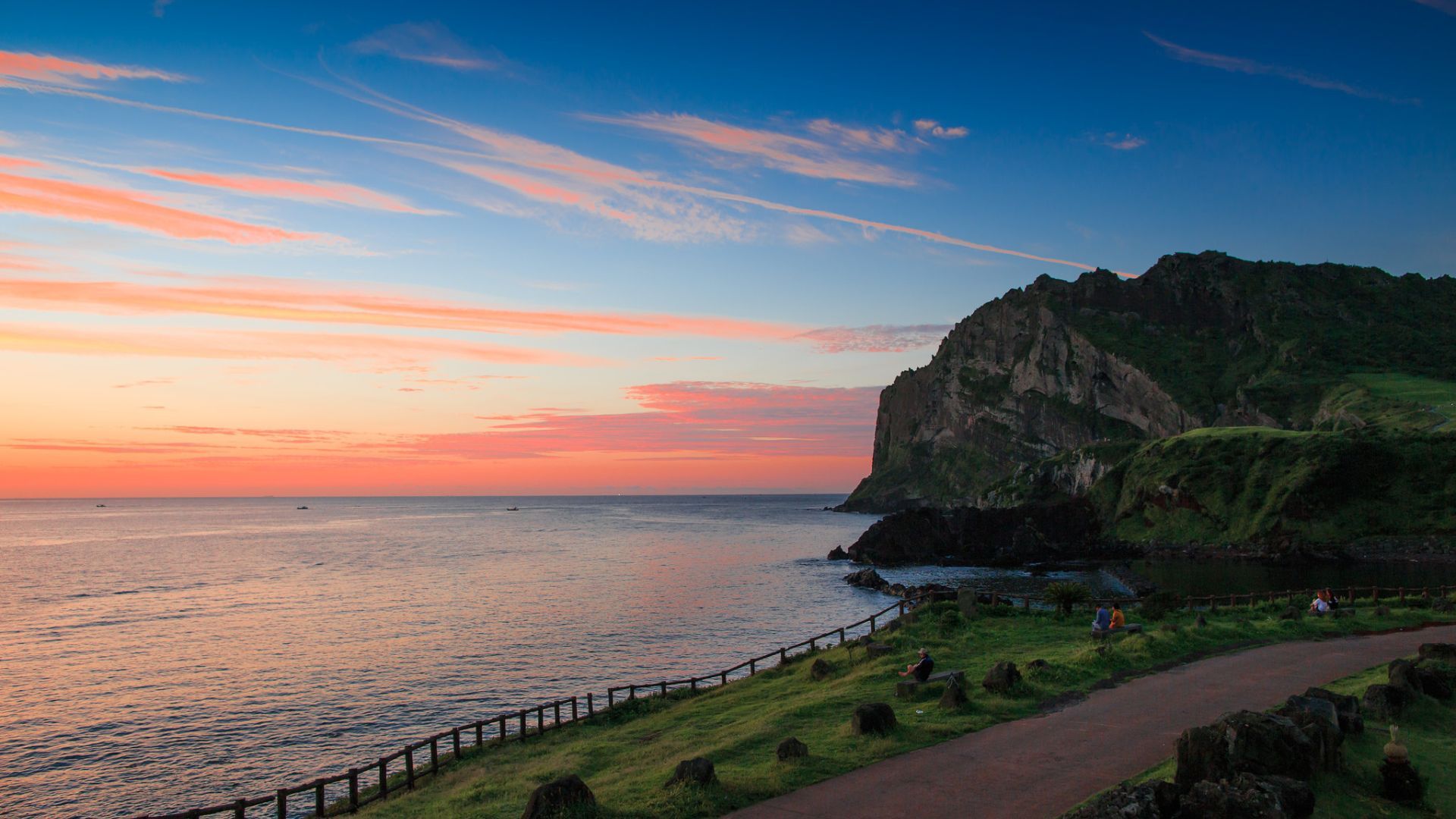 Seongsan IIchulbong or Sunrise Peak is one of Jeju Island's most iconic sites. Rising about 180 metres above sea level, the volcanic crater formed about 5,000 years ago. Today, it's a UNESCO World Heritage Site featured in various films. While you can admire the beautiful sight from afar, the best way to see it is to hike to the peak. It's even better if you can catch the sunrise, just as its name suggests.
Address: 284-12, Ilchulro, Seogwipo-si, Jeju Island, South Korea
Opening hours: 7:30 am to 7:00 pm (March to October), 7:00 am to 5:30 pm (November to December), closed on the first Monday of every month
Jeongbang Waterfall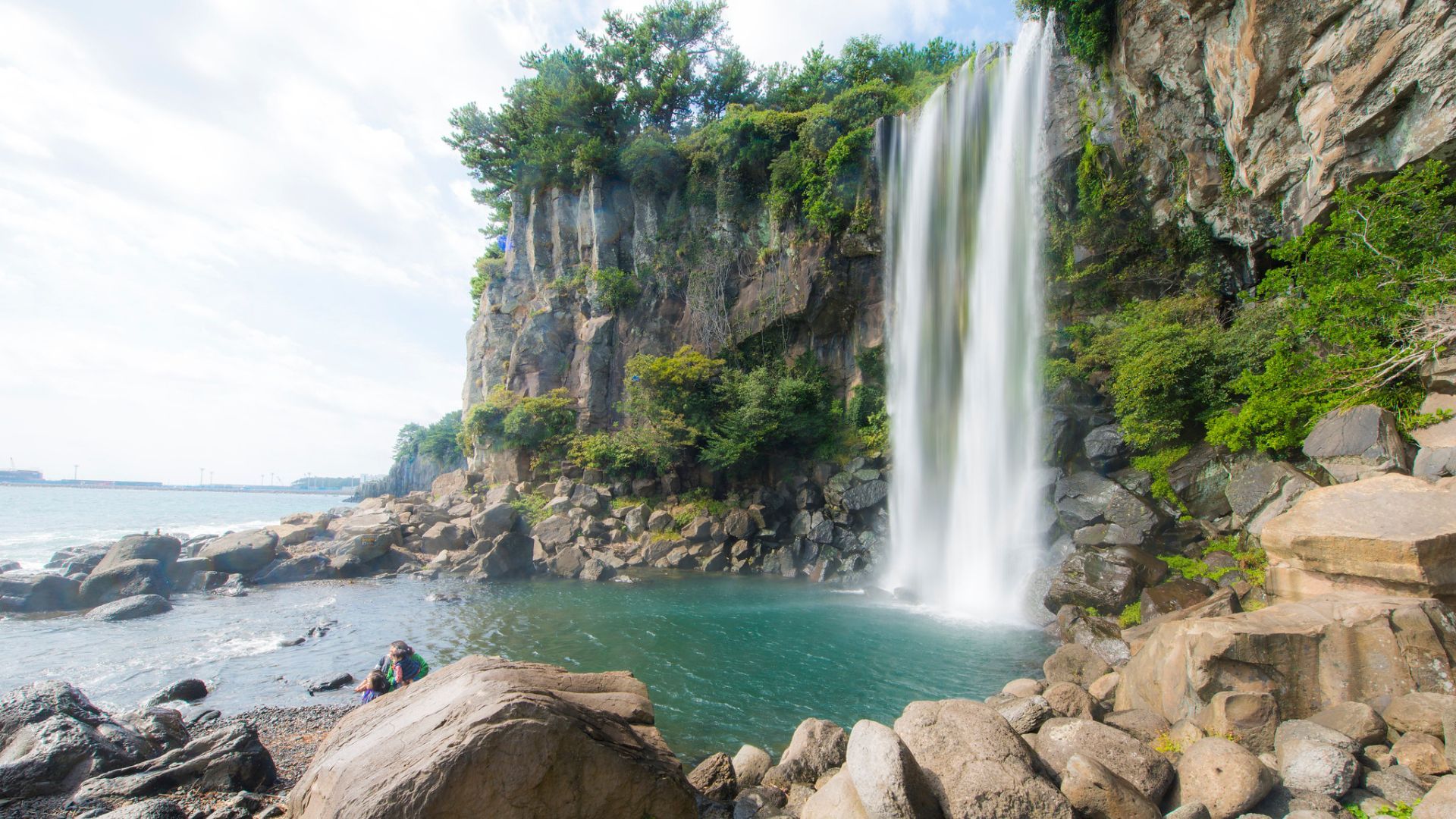 Water flows directly into the sea at the one-of-its-kind Jeongbang Waterfall in South Korea. The black cliff waterfall stands 23 metres high, which makes for a thrilling sight. There are two streams for visitors to admire, but pine trees and cliffs surround both for extra picturesque scenery. Legend has it that a man named Seobul wrote "Seobulgwacha" (Seobul was here) on the wall of the waterfall. However, there is debate if the inscription actually exists.
Address: 214 Chilsimni-ro, Seogwipo-si, Jeju Island
Opening hours: 8:00 am to 6:00 pm
Manjanggul Cave
At Manjanggul Cave, you'll feel like you've stepped back in time, as if you're witnessing the early days of Earth's creation. With a maximum height of 25 metres and a width of 18 metres, the cave is one of the largest lava tubes in the world. Only a kilometre of the cave is open to the public, where visitors can see various kinds of topographical features and rock formations. In addition, you'll get to admire a 7.6-metre-tall stone pillar towards the end, the largest of its kind in the world.
Address: 182, Manjanggul-gil, Jeju-si, Jeju Island, South Korea
Opening hours: 9:00 am to 6:00 pm, closed on the first Wednesday of every month
Book these hotels in Jeju City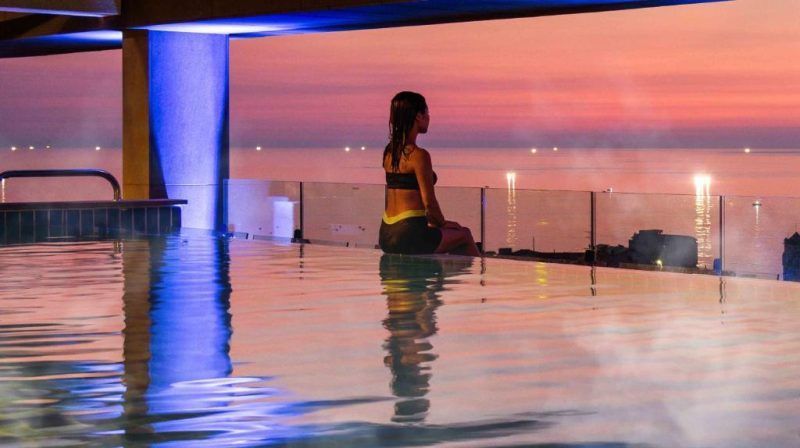 Hallasan National Park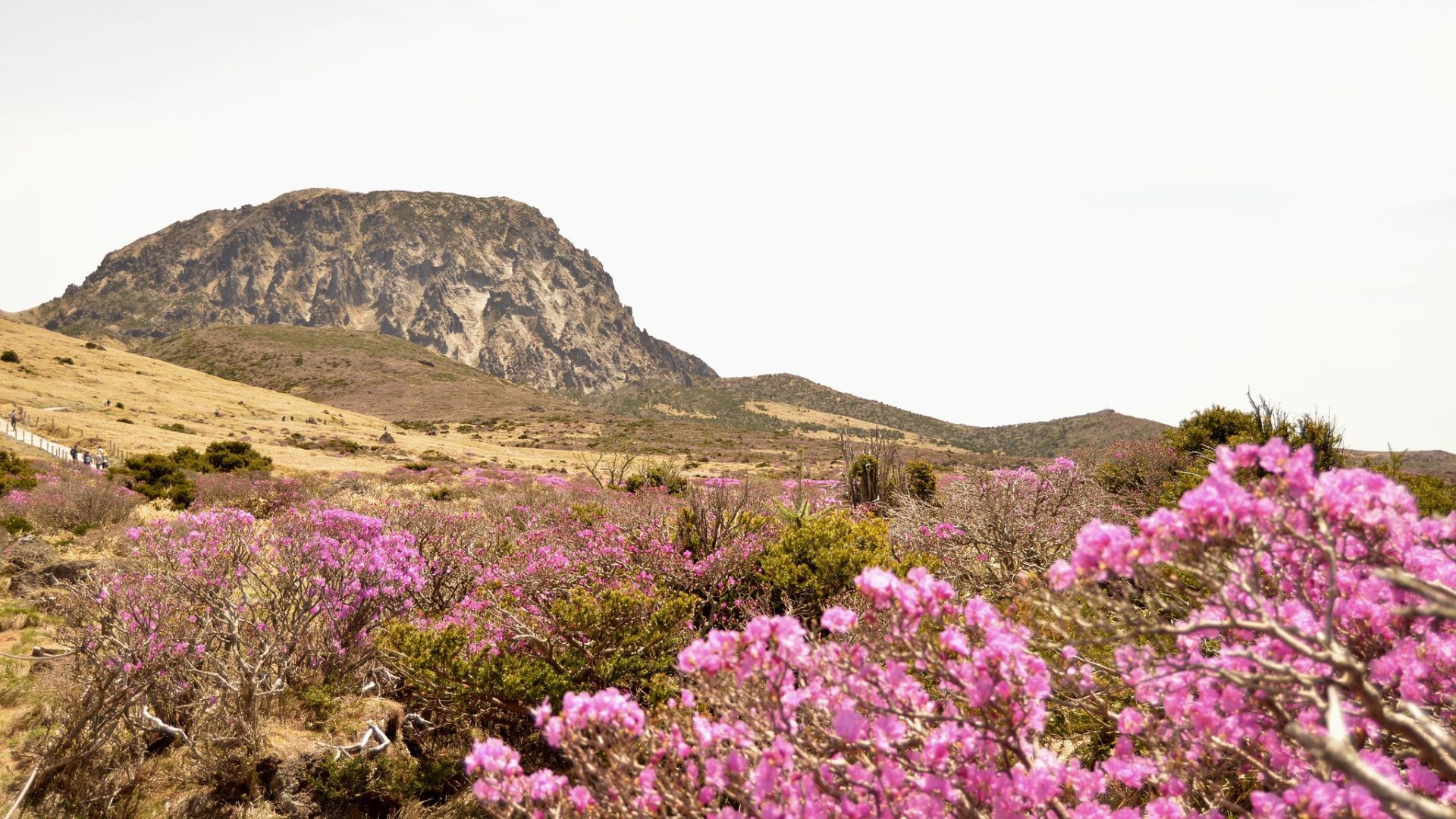 A trip to Jeju Island is only complete with visiting Hallasan National Park. Hallasan, South Korea's highest peak, is at this UNESCO World Heritage Site. The island's most remarkable landmark, Hallasan, has 368 parasite cones called 'oreum', which means 'peak' in the local Jeju dialect. In addition, the area boasts an abundance of varying flora species and animals. We recommend hiking to enjoy panoramic views of the island and the mountains.
Address: 2070-61, 1100-ro, Jeju-si, Jeju Island, South Korea
Opening hours: Open all year round
Udo Island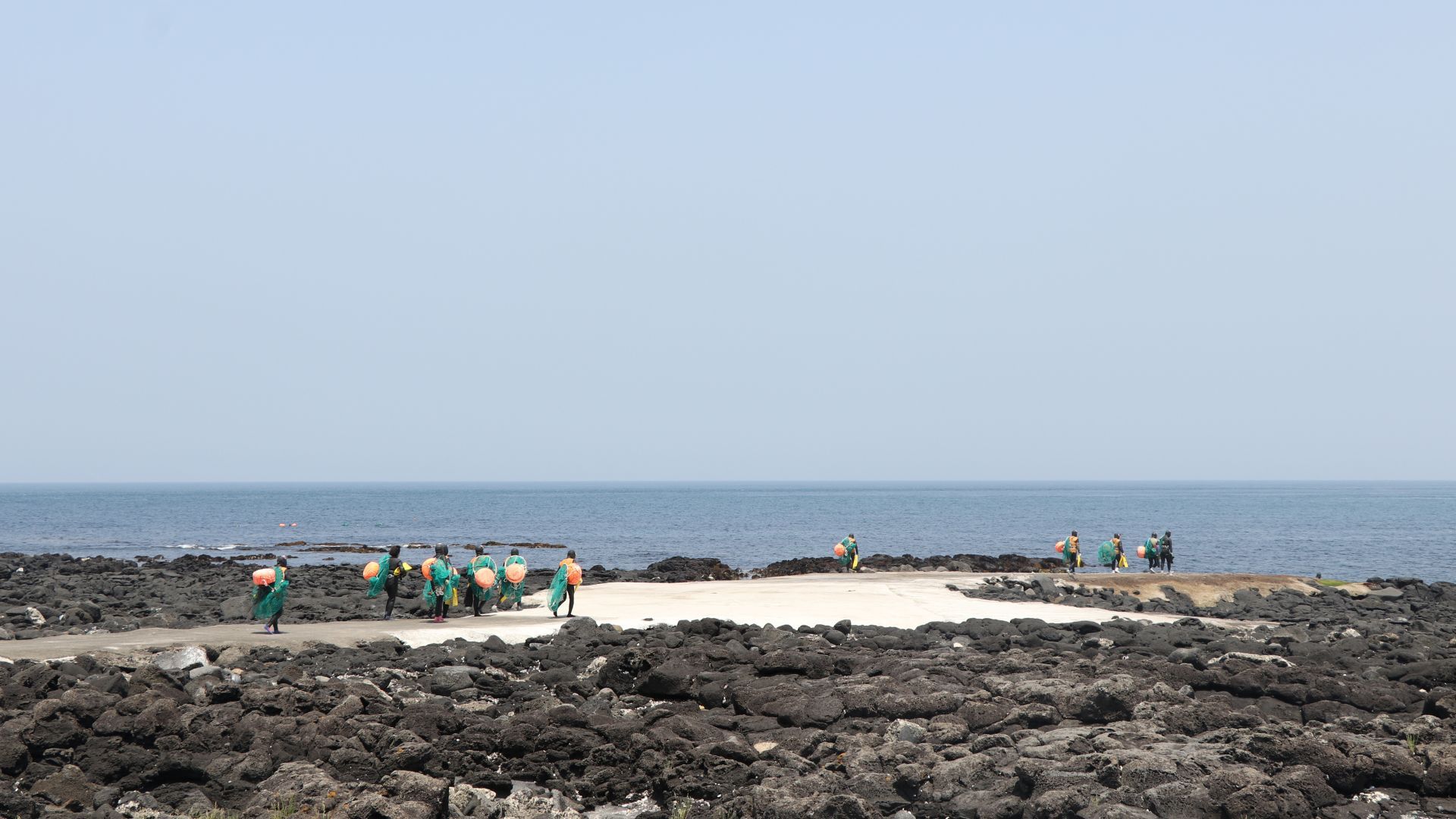 While Jeju itself is an island, a short trip to the nearby smaller island, Udo is well worth it. Udo Island is only 3.8 kilometres in length but has plenty to see including stone walls, natural attractions, scenic sights, and haenyo (female free divers). Inhabited since the Joseon period, it's also a wonderful place to go fishing, cycling, and enjoying sand massages. Be sure to drop by the famous Rhodolith Beach, which boasts beautiful white sand and crystal-clear waters. Udo Island can easily be reached via ferry in about 30 minutes.
Address: 153, Udo-ro, Jeju-si, Jeju Island, South Korea
Opening hours: Open all year round
Jeju Folk Village Museum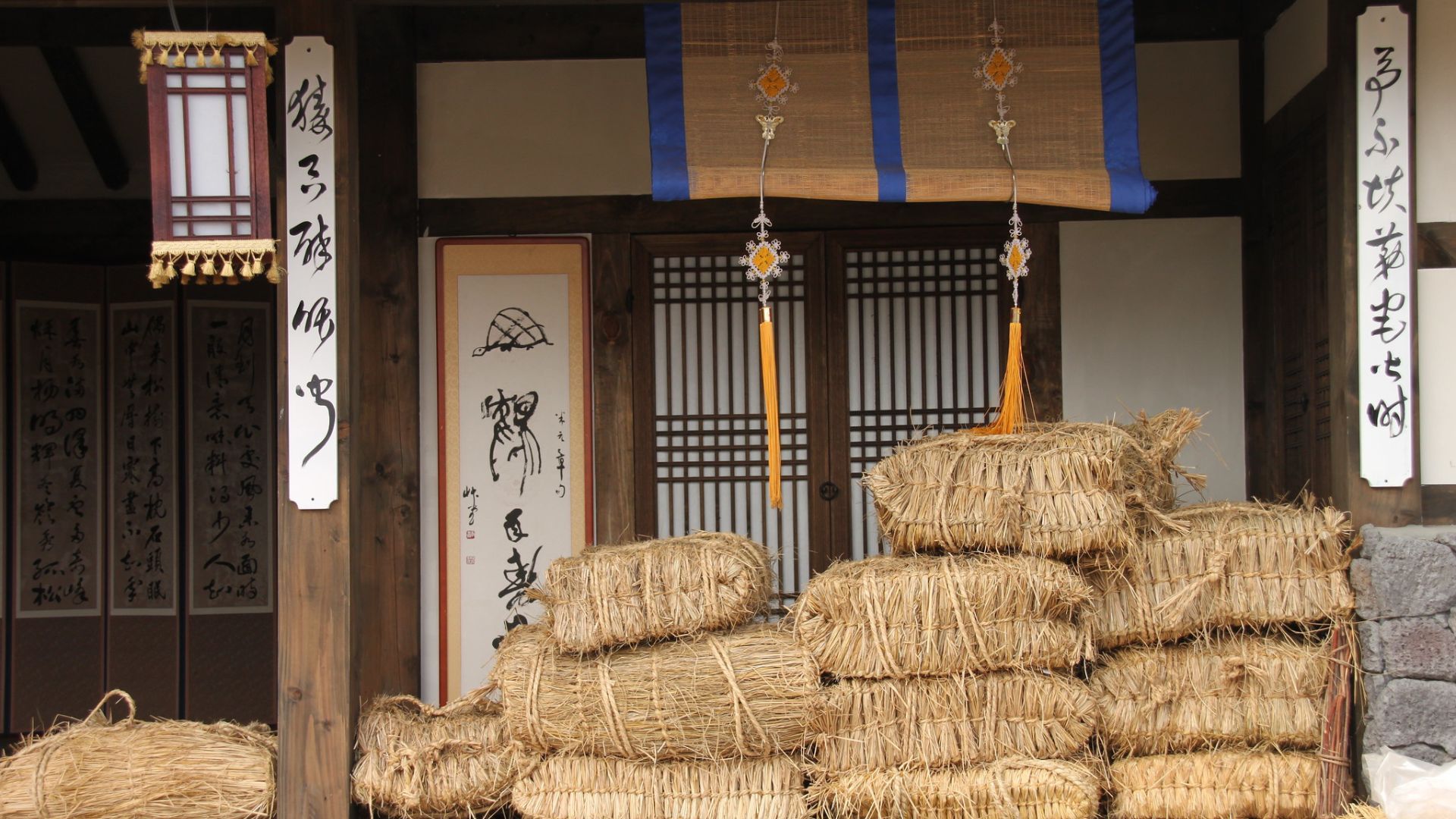 Travel back in time and learn more about Jeju Island's past at the Jeju Folk Village. This is one of Jeju Island's most popular attractions as it recreates scenes of the island as it were in the 1890s. There are over 100 houses and facilities that once served as official residences of the people living there. Visitors can also admire a variety of items on display that are part of Jeju Island's history, culture, and traditions.
Address: 631-34, Minsokhaean-ro, Pyoseon-myeon, Seogwipo-si, Jeju Island, South Korea
Opening hours: 8:30 am to 5:00 pm (October to February), 8:30 am to 5:30 pm (March, July 16 to August), 8:30 am to 6:00 pm (April to July 15, September)
Seopjikoji Hill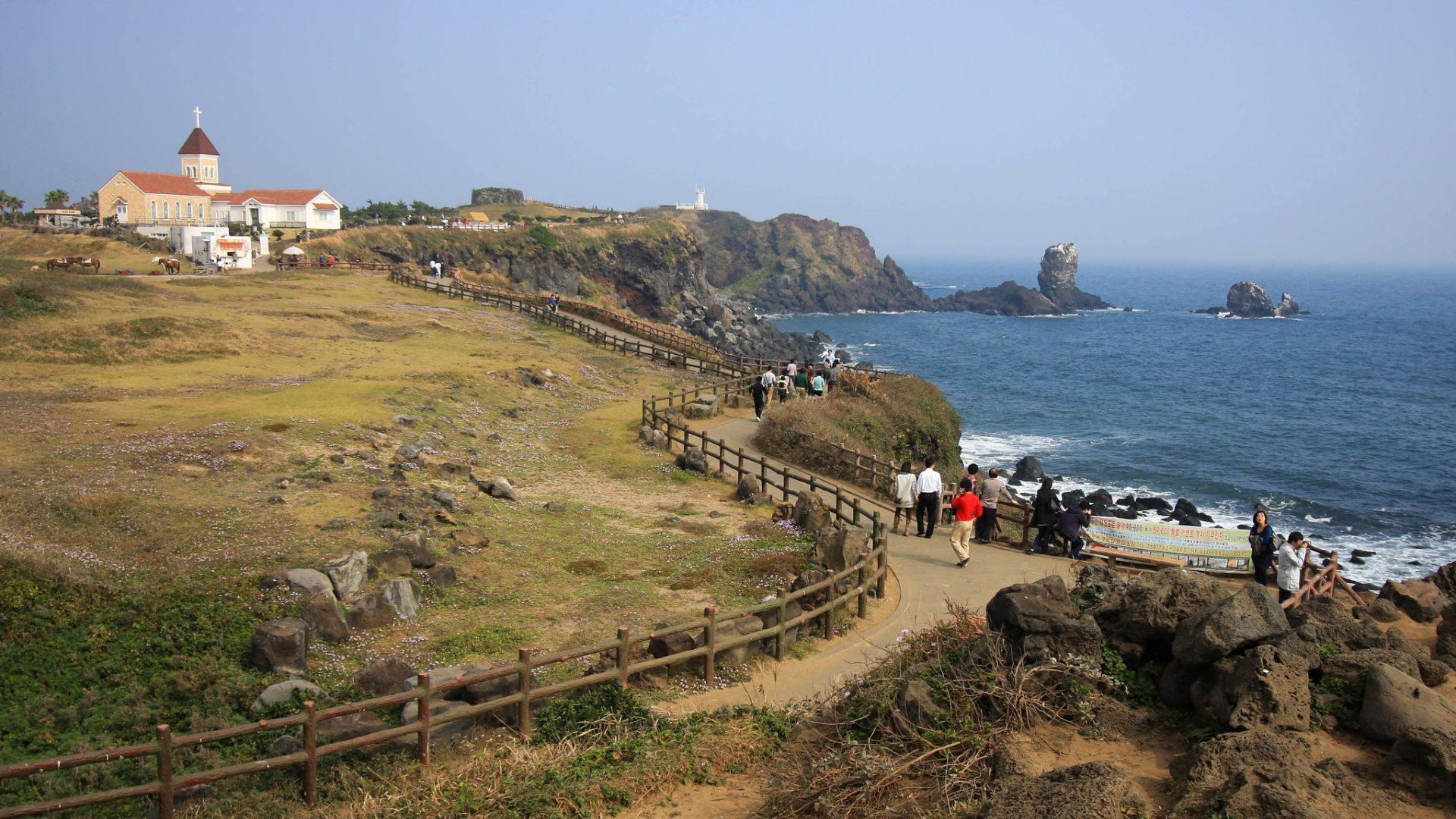 The best time to visit Seopjikoji Hill is during spring when its vast fields of canola flowers bloom. Thanks to its fabulous location south of Seongsan Ilchulbong, you'll get a front-row view of the famous volcanic crater. Seopjikoji Hill also offers a complete view of the island's rugged coastline and beaches. The white lighthouse atop the hill makes for a romantic sight, like a scene from a Korean drama.
Address: 107, Seopjikoji-ro, Seogwipo-si, Jeju Island, South Korea
Opening hours: Open all year round
Source: Lifestyle Korea